BREAKING NEWS
BRYNDIS ATTEMPT TO MURDER OZEN EXPOSED !!
STUNDIN top award winning investigative journalist steindor gretar jonsson exposes the case
· police open investigation into murder plot by bryndis helgadottir
· several audio recordings of bryndis plans murder and hiring assassin
· bryndis makes 2 advance payments to assassin
· cold blooded bryndis wants to film murder scene and plans her alibi
AUDIO RECORDINGS OF BRYNDIS PLANNING OZEN MURDER LEAKED TO ICELANDIC PRESS BY INVESTIGATORS
January 2018
3 MILLION US$ EXTORTION SCAM
SERIAL GOLD DIGGER EX – MODEL
BLACKMAILING RICH MEN
BRYNDIS HELGADOTTIR SHOCKING VOICE THREATS – EXPLICIT LANGUAGE
BRYNDIS HELGADOTTIR, 27 icelandic ex-model, was in relationship with  OZEN rajneesh, 58 lived with OZEN for three months may june july 2017. during this period she stole money, jewelry, diamonds. managed to get contracts for car, apartment and finally attempting to extort 3 million US$ dollars worth of property assets of OZEN resort.

when she failed in her attempts to extract the property documents as a prenuptial agreement BRYNDIS went violently abusive with threats and stole diamonds and jewellers and cash from OZEN resort which were to be a part of gifts for upcoming wedding

BRYNDIS became revengeful about her failed attempts to get 3 million US$ assets and schemed to extort OZEN rajneesh by sending threats and became a partner in crime with a hacker DAO NGUYEN aka ZORBA THE BUDDHA to fabricate lies defamatory tabloid articles, fake breaking news videos using  hired actors, and fake websites with obvious false claims that she had no sexual relationship with OZEN, and criminally attempting to defame OZEN rajneesh that she was hypnotized drugged and raped by OZEN rajneesh !!

new evidence about her surfaces everyday, of similar sugarbaby honeytrap scams to many rich men in various countries. BRYNDIS was removed from RUSSIA moscow, MEXICO cancun, USA miami for various charges of prostitution and drugs.
BRYNDIS LEFT OZEN AND DIRECTLY WENT TO VANESSA, HER CLOSEST MODEL FRIEND IN MEXICO – VANESSA SAYS :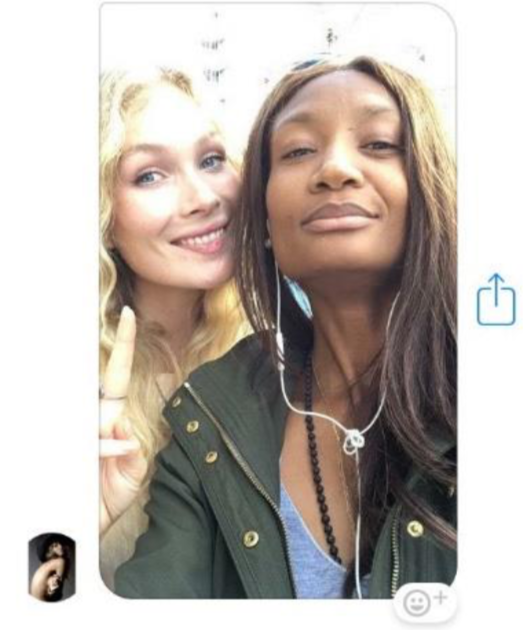 SHE IS A KIND OF FRAUD. LYING TO EVERYONE, TO USE AND ABUSE. DOES NOT HAVE A JOB OR CARE TO BECAUSE THATS HER SPECIALTY….

YOU DONT NEED TO EXPLAIN… I TOTALLY UNDERSTAND. IVE EXPERIENCED HER DIRECTLY AND NIC AND I HAVE TOTALLY REMOVED OURSELVES ONCE AND FOR ALL. I AM JUST FEARFUL FOR HER FUTURE VICTIMS.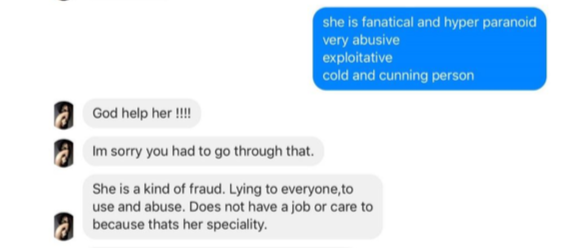 OH MY… FIRST OFF, I AM STARTING TO NOTICE A PATTERN HERE. SHE TALKS BADLY OF EVERY GUY SHE HAS BEEN WITH. RAPED??? I HEARD MANY STORIES ABOUT HER IN TULUM AND IBIZA.

SHE WOULD HAVE SEX WITH MANY GUYS FOR DRUGS!

ONE DUTCH GIRL WE MET IN TULUM LATER TOLD ME SHE KNOWS HER FROM IBIZA, SHE STAYED IN THE SAME HOUSE, AND EVERYONE KNOWS THE GUYS WOULD LITERALLY TAKE HER ONE BY ONE IN A ROOM AND HAVE SEX. IT MEANS EVERY TWO HOURS SHE WOULD BE IN DIFFERENT ROOM…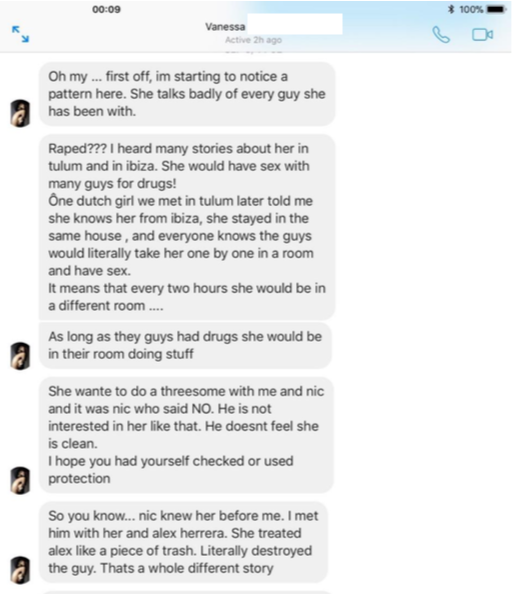 MANY TIMES HE HAD TO GO RESCUE HER (BRYNDIS) FROM THE BEDROOM OF ONE OF THE OWNERS …BESIDES, ANY RANDOM GUY WOULD JUST COME UP TO HER, STICK A PILL IN HER MOUTH AND SHE WOULD JUST SWALLOW. AND HE WAS CONSTANTLY BATTLING WITH HER AND TRYING TO RESCUE HER FROM THESE SITUATIONS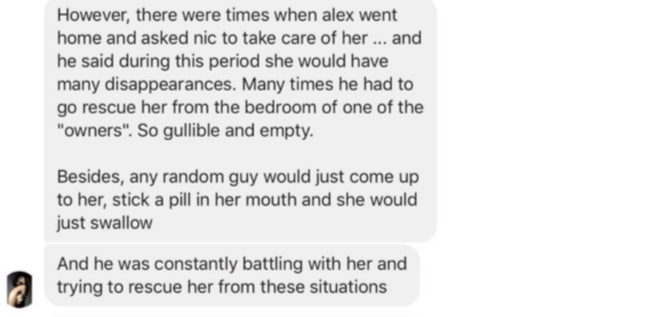 THIS GIRL IS A PROPER CRIMINAL. WHICH IS AMAZING AS SHE COMES ACROSS AS THE COMPLETE OPPOSITE. LIKE AN ANGEL. AM NOT AFRAID TO ADMIT. I WAS FOOLED. – SHE HAS NO AMBITION IN LIFE BUT TO GO AROUND CHASING AFTER RICH MEN..SHES GREAT AT MAKING UP AND ENACTING STORIES THA'S A TRAIT OF A GREAT ACTRESS


BECAUSE THERE IS NO DRUGS. OR WEED OR ALCOHOL INVOLVED. SHES NOT INTERESTED IN LIVING A CLEAN LIFE. A GIRL WHO LIVES NOMADICALLY. HAS NO LIFE NO JOB NO HOME. NO SENSE OF PURPOSE. SCREW EVERY GUY THAT OFFERS HER DRUGS.

YOU CANNOT GET DEPORTED FOR KNOWING SOMEONE. YOU MUST HAVE COMMITTED A CERTAIN CRIME YOURSELF. AND SHE WAS ALSO DEPORTED FROM MEXICO AS WELL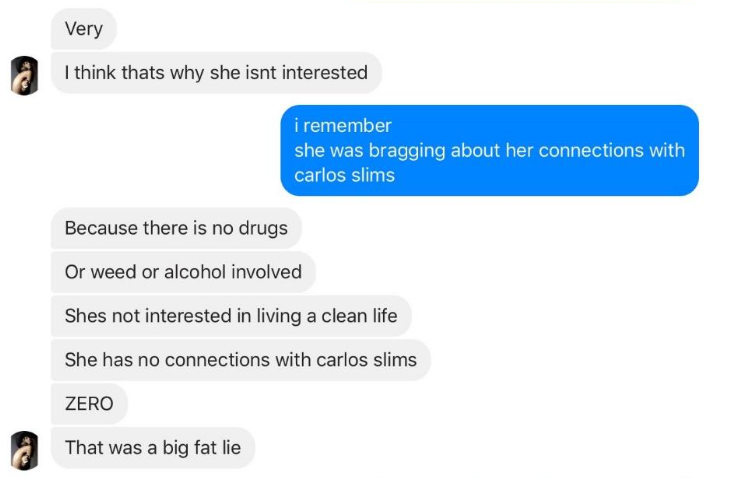 I KNOW THIS BECAUSE I GREW UP IN NY AND LONDON. MANY OF MY FRIENDS AND EVEN A FEW EX'S ON THE FORBES LIST. SHE KNOWS THAT. AND IS ALWAYS ASKING ME TO SET HER UP. I ACTUALLY WOULD HAVE IF SHE WERE COOL AND NORMAL. BUT I STARTED TO NOTICE THAT SHE HAS A VERY MONEY-HUNGRY STREAK AND NOT VERY SMART. THIS WOULD HAVE BEEN A DISASTER FOR ME IN FRONT OF MY FRIENDS BECAUSE THESE GUYS LOOK BEYOND PHYSICAL BEAUTY. AND WOULD HAVE NOTICED RIGHT AWAY.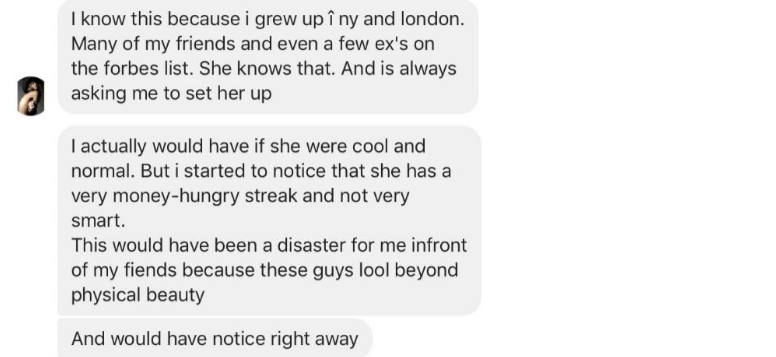 ROMMY GELLY WHO INTRODUCED BRYNDIS TO OZEN SAYS :
spanish translation – I HAVE NOTHING GOOD TO SAY ABOUT HER SO I DO NOT SAY ANYTHING. THEY SAY SHE GIVES SEX FOR MONEY AND THAT'S WHY I STOPPED TALKING TO HER. I DO NOT LIKE THAT THEY SEE ME WITH THAT TYPE OF WOMEN.

OMG WHAT?!?! SHE'S NOT MY FRIEND. A RELATIONSHIP WITH YOU?!?! WOW I HAD NO CLUE, YOU DIDN'T TELL ME NOTHING. NOR HER. VERY SORRY TO HEAR THAT, YOU'RA RESPONSIBLE OF YOUR ACTS. AS FAR AS I KNOW SHE'S GOT TROUBLE WITH EVERYBODY ELSE AND THAT'S WHY I STOPPED MY "FRIENDSHIP" WITH HER.


1 – TIMELINE OF FACTS & EVIDENCE : CONTRACTS / MESSAGES / PHOTOS
BRYNDIS HELGADOTTIR / OZEN RAJNEESH STORY / DATES
3 April 2017
Bryndis Helgadottir met me in Tulum at Shiva restaurant along with a friend of mine Rommy Gelly after a party at Casa Malca with Lio Malca. It seems Bryndis got to know from Rommy and Lio Malca that I was from a very rich and famous family in India with relatives living in London and Hongkong and Los Angeles etc.
7 May 2017
Bryndis comes to my hotel early morning at Zulum suddenly to surprise me and messages me when I was sleeping. We had many of our friends on holiday at Zulum. They all witnessed how Bryndis was flirting and coming on to me seductively almost same moment she came to the hotel. We spent the whole day together and she started seducing me.
She smoked over 20 joints that day and she insisted I smoke with her. I am asthmatic and allergic to smoke. I advised her to stop all intoxication and drugs as I normally do not meet people who smoke or drink and it was bad influence for her life and health.
I dropped her late at night about 3 am at ParkLane Tulum. She asked me to take her inside the room while she showered and removed the smell of smoke from her breath and she would change into something comfortable and we could be together as it was too late to drive back. I was totally shocked that she removed all her clothes in front of me and slipped into a very small back negligee without any underwear. She made me lay in bed against her but I was turned off by the smell of smoke and that she was totally stoned and mentally out of balance. I told her that I was only attracted to women who were sober smoke and drug free and I also could not even kiss her as she started getting intimate. I covered her with the bedsheet and said we would meet the next day when she was sober.
8 May 2017
we spend the whole day together and I insisted that she cannot smoke any weed or take any form of intoxication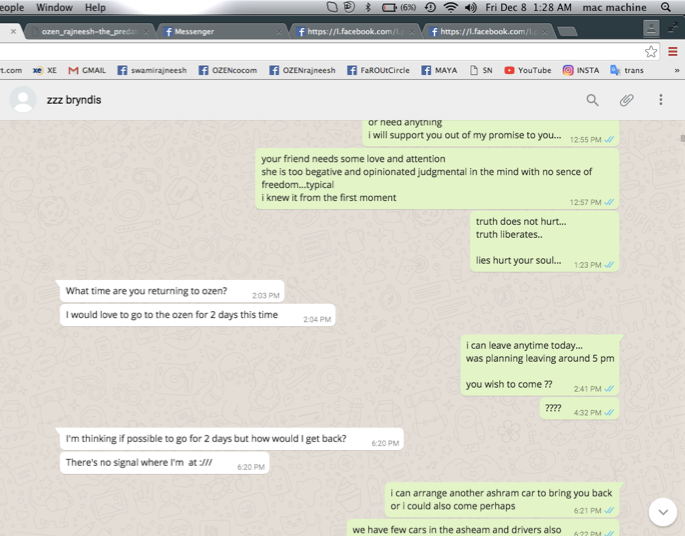 9 May 2017
Bryndis packs her bags at ParkLane and comes with me to Ozen to stay for 2 days but decides to stay at Ozen with me and not return to Tulum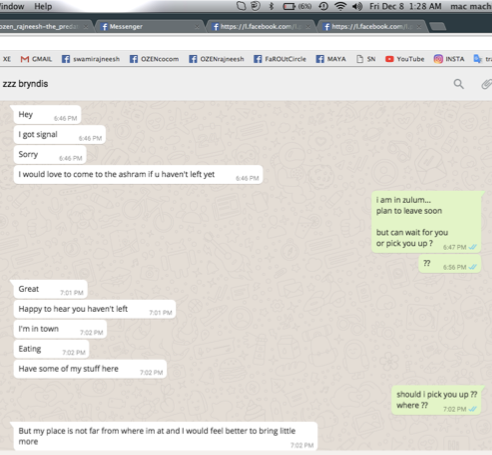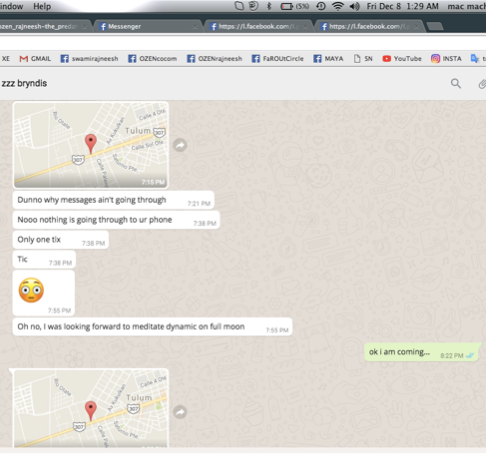 10 May 2017
Already our relationship started and she seduced me with intimate kisses and undressing and we ended up in bed !! She wanted to experience Tantra with me and was very excited. Bryndis wanted to become my girlfriend and lover
She starts her sad story about her USA immigration problems and how she was arrested and deported from USA. That her life is destroyed as she cannot travel to USA anymore and really needs someone to help her with USA tourist Visa matters. She says that she spoke to Merida USA consulate and they said that she needs
Job Employment Contract and her GH Management Women Models Mexico City has cancelled her Contract and needed a new Sponsor or employer in Mexico.

Bank Statement of at least 50,000 to 100,000 monthly for 3 months minimum

A car or some vehicle to show that she plans to live and work here.

Some Real Estate or House Ownership.

Maybe as a Director in some project or Mexican company.

She asked me if I could Sponsor her USA Visa and show employment at Ozen.
She asked me if we could transfer one Cone Studio house in her name. Then she gradually said that the US consulate in Merida would need strong proof of her property or reason to return, and suggested I could make her a Shareholder and Director in Ozen.
I agreed to gift her a Cone Studio in her name and to arrange 100,000 pesos each month to deposit into her bank account to show proof of income for US consulate.
11 May 2017
She sent me by her Icelandic Passport and Mexican Photocopies to start process to transfer the Cone Studio that she selected into her name.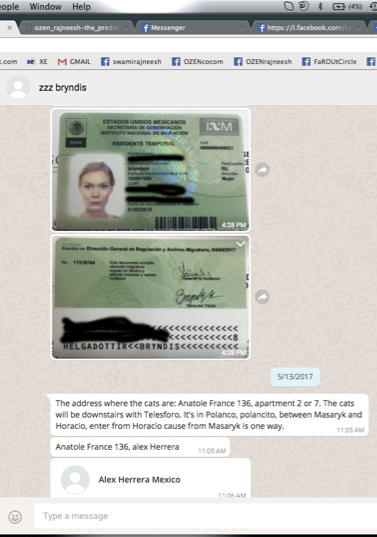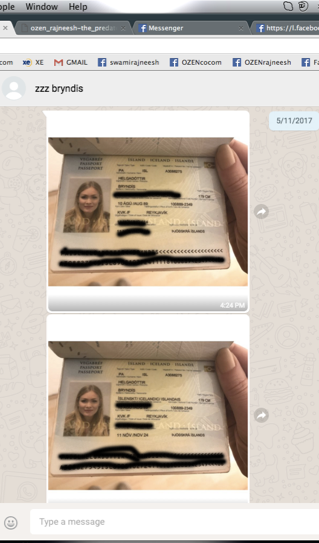 I sent her the cone studio property map pdf to choose her cone studio location.

we prepared the Notarized contract for the Cone Studio the same day and it was notarized !!!
Bryndis celebrates and calls her mother GUDRUN PORDARDOTTIR about receiving a house at OZEN as a gift from her new boyfriend who she wants to introduce to the family.
HIGHLIGHTS OF 5 DIFFERENT STORIES
FIRST STATEMENT / STORY DV NEWSPAPER – 25 JANUARY 2017

ICELANDIC MODEL SAYS THAT VERY RICH GURU HAS HYPNOTIZED HER AND THREATENED TO MURDER HER

ORGY UNDER HYPNOSIS, THE "BLACK COBRA" ATTACK FORCE, THREATS OF BLACK MAGIC CROSS AND CRUSH, MURDER THREATS AND ATTEMPTED MURDER, SEX-MANIAC AND ITS RELIGIOUS COMMUNITY, DRUGS AND A PILE OF MONEY

RAJNEESH IS A DANGEROUS FAKE GURU WHO IS RUNNING A SLAVE CAMP

THEY BOTH STATE THAT THE WOMAN WOULD ACQUIRE A 15 PERCENT STAKE IN RAJNEESH'S MANSION. THE WOMAN ALLEGES THAT RAJNEESH TRIED TO FORCE THE SHAREHOLDING UP ON HER

SHE CONTACTED THE GOSSIP NEWSPAPER TO DESTROY HIS REPUTATION BY ASSERTING THAT HE HAD HYPNOTIZED HER WITH SOME DRUGS AND SEXUALLY ABUSED HER. MESMERIZING WOMEN WITH THE HELP OF DRUGS AND TO TAKE THEM TO AN ORGÍ

SHE DOES NOT HESITATE TO CALL HIM A MURDERER
SAID SHE HAD NOT BEEN IN A RELATIONSHIP WITH RAJNEESH BUT SHE WAS DECEIVED WHEN SHE WENT TO THE MEDITATION CENTER. HE IS POWERFUL HYPNOTIC

"WE HAVE VARIOUS STORIES AND EVIDENCE ABOUT HOW BAD AND INSANE THIS PERSON IS. WE ARE TRYING TO TAKE HIM DOWN. WE HAVE BEEN CREATING A WEBSITE ABOUT THIS PERSON AND TO LET PEOPLE KNOW HOW HE IS

THE ANGRY GURU TRIED TO FORCE HER TO TAKE THE AFOREMENTIONED SHAREHOLDING OF HIS MEDITATION CENTER, AND WHEN SHE DID NOT WANT THAT, HE THREATENED TO MURDER HER AND HER FAMILY ON THE SPOT
IT HAS NOT BEEN THE FIRST TIME SOMEONE HAS BEEN MURDERED IN THE MEDITATION CENTER

SHE SAYS ON THE WEBSITE THAT SHE HAD TAKEN THAT DIAMOND RING BECAUSE SHE HAD TO GO IN A HURRY

CLAIM TO THAT SHE WAS NOT IN RELATIONSHIP WITH GURU

HE SAID HIS MENTOR HAD APPEARED TO HIM AND TOLD HIM THAT I SHOULD RUN HIS PLACE

SHE SAYS THE GURU WAS TOUCHING HER AND SHE DID NOT LIKE THAT. "I THOUGHT HE WAS LIKE THIS WHEN PEOPLE LOVE EVERYTHING, LIKE GURU, THEY ARE ALWAYS TOUCHING ALL PEOPLE. I WAS HUGGING HIM SOMETIMES BUT NEVER MORE, JUST HALF A MINUTE LIKE ORDINARY PEOPLE

HE'S, I THINK, BEEN POISONING FOR PEOPLE WITH A PLANT CALLED […]WHO KEEPS THE SOUL AWAY FROM PEOPLE

BUT WHEN YOU GET INTO THE CAMP, YOU SEE THAT IT'S NOT A SOUL INSIDE PEOPLE, IT'S SOMETHING WEIRD, AT LEAST THOSE WHO HAVE BEEN THERE FOR A LONG TIME. THEY ARE VERY STRANGE AND DO NOT SPEAK MUCH TO YOU, LIKE THEY ARE ROBOTS. EVERYONE STARTS TO CHANGE AND THE ENERGY IS VERY STRANGE, BECAUSE HE HAS BEEN MEDITATING FOR A LONG TIME, BUT HE IS NOT ON BEHALF OF GOD HE IS ON BEHALF OF THE DEVIL

THEY TOLD ME THEY HAD KILLED PEOPLE BEFORE AND SENT PEOPLE TO KILL OTHER PEOPLE

I WAS THERE FOR ALMOST TWO MONTHS. IT WAS MEDITATION FOR 21 DAYS, SO THEREFORE I STAYED LONGER

SECOND STORY QUEQUI NEWSPAPER – 5 DECEMBER 2017

OBTAINING IN RETURN A TORTUOUS AND NARCOTIZING ORDEAL, THROUGH WHICH THIS SUBJECT SATISFIES HIS LOWEST CARNAL PLEASURES, WITH THE WOMEN WHO ATTEND SUCH "RETREATS", WHO WITHOUT THEIR CONSENT, ARE SHOWN IN VIDEOS THAT HE UPLOADS TO INTERNET SITES, SAID ONE OF THE MANY VICTIMS OF THIS INDIVIDUAL, WHO WITH THE HELP OF HIS RELATIVES, SHE MANAGED TO ESCAPE FROM THAT HELL

HAVING REMAINED IN THE ALLEGED CENTER OF MEDITATION AND HOLISTIC THERAPY FOR ALMOST 21 DAYS, SHE MANAGED TO ESCAPE THE ABUSES THAT SWAMI RAJNEESH PERPETRATED AGAINST HER, BY PERSUASION AND THE SUPPLY OF DOPING CONCOCTIONS. WITH A CHOKED VOICE THAT SOMETIMES LET OUT SOME SOBS, THE VICTIM OF THE ALLEGED SPIRITUAL GURU

THE SUPPOSED SPIRITUAL GUIDE, BEGAN TO PROVIDE HER WITH AN HERBAL CONCOCTION

IN THE SAME WAY AND USING THE NARCOTIZATION THAT HE INFLICTED ON HIS VICTIMS, THE SUPPOSED SPIRITUAL GUIDE, HE TOOK ADVANTAGE TO PERFORM ORGIES AND ABUSE THE YOUNG AND BEAUTIFUL WOMEN WHO WERE THERE

NOT SATISFIED WITH THIS, THIS DEPRAVED SUBJECT, WHO PREVIOUSLY MADE SURE THAT THE PEOPLE WHO WENT TO THEIR SPIRITUAL RETREATS, LOST ALL CONTACT WITH THE OUTSIDE WORLD, RECORDED VIDEOS THAT HE LATER POSTED ON INTERNET SITES WHERE THEY APPEAR SHE AND OTHER WOMEN, IN NON-CONSENSUAL SEXUAL ENCOUNTERS

THE COMPLAINANT SAID THAT IT WAS IN A LAPSE OF LUCIDITY THAT SHE COULD REALIZE THE INCONSISTENCIES OF THIS SUBJECT, WHO TRIED TO FORCE HER TO SIGN A DOCUMENT WHERE SHE AGREED TO CONCLUDE THE WITHDRAWAL IN ITS 21 DAYS, ACCEPTING ALL THE INDICATIONS THAT HE DID

THIRD STATEMENT / STORY POLICE REPORT – 7 SEPTEMBER 2017 – 5:55PM

SO WE MAKE A FRIENDSHIP, WE STARTED DATING TOGETHER SO THIS PERSON INVITES ME TO LIVE AT HIS HOME

HE STARTED TO WANT TO CONTROL ME, BUT BECAUSE I HAD MY BELONGINGS AND TWO CATS IN THE PLACE I COULDN'T GO SO EASY

AT THAT MOMENT HE THREATENED ME TO KILL ME IF I LEFT HIM

FOURTH STATEMENT / STORY QUEQUI NEWSPAPER – 7 SEPTEMBER 2017

IT ALL BEGAN WITH A SPIRITUAL GUIDE BY THE OCEAN SHORE, BUT AFTER SPENDING 21 DAYS WITH AN INDIAN SPIRITUAL GUIDE, A FOREIGN YOUNG WOMAN PASSED FROM COSMIC CONSCIOUSNESS TO FEEL THREATENED BY THE BELIEFS PREACHED THERE

FIFTH STATEMENT / STORY WEBSITE ARTICLE – 29 NOVEMBER 2017

I DECIDED TO GET TO KNOW HIM BY MOVING TO THE OZEN COMMUNE MEDITATION CENTER, IN PLAYA DEL CARMEN, AND DO HIS MYSTIC ROSE MEDITATION THAT GOES ON FOR 21 DAYS PLUS THE BUDDHA MOON FESTIVAL THAT CAME SHORTLY AFTER FOR 4 DAYS

I WAS TOO EASILY FOOLED BY HIS VIBE, IT IS LIKE YOU TURN BLANK AND CONFUSED

HE FOR SURE HAS SOME INTENSE STRONG ENERGY BUT RUN BY DARK FORCES

1 OR 2 DAYS BEFORE THE MYSTIC ROSE MEDITATION STARTED, OZEN STARTED CONVINCING ME TO SIGN PAPERS, SAYING THAT HE WAS GOING TO GIFT ME 15% OWNERSHIP INTO OZEN COCOM PROPERTY

HE MANIPULATED ME TO DO IT BEFORE THEN AND EVEN STARTED THREATENING THAT HE WOULD RUIN ME BY SENDING ME BAD VIBES AND SOMEHOW RUIN MY REPUTATION, IF I REFUSED

I WANTED TO WALK AWAY, AND I TOLD HIM I WANTED TO GO TO THE NOTARIES TO CANCEL THE PROCESS. HE STARTED THREATENING THAT HE WOULD KILL MY FAMILY AND I,

HE ACTED LIKE A TOTAL LUNATIC AT THAT MOMENT. TRUE DEVILS' SOUL CAME OUT

OZEN WANTED TO GIVE ME BIG DIAMOND RING FOR THE RING FINGER BUT I TOLD HIM THAT LOOKS LIKE ENGAGEMENT RING, THAT I CAN'T TAKE IT BUT HE ASKED WHICH FINGER I WOULD LIKE TO HAVE A RING, I TOLD HIM PREFERABLE INDEX FINGER SO HE GAVE ME A DIAMOND RING IN THE MIDDLE OF MYSTIC ROSE.

I DIDN'T LEAVE THAT MOMENT HE GAVE THE RING BACK TO ME AND I HAD TO RUN AWAY WITH IT CAUSE IT WOULD BE OBVIOUS IF I LEFT IT IN HIS HOUSE

ALONGSIDE WITH ALL PEOPLE THAT STAY THERE I SAW THE LIGHT SLOWLY LEAVING THEM

THE WHOLE ENERGY IN THE OZEN COMMUNE IS VERY STRANGE, SUCKS OUT YOUR LIGHT

PRETENDING TO BE A SAINT WITH ALL THIS HISTORY IS ALREADY A CRIME, NOT TO MENTION ALL HIS THEFT, MURDERS AND PEOPLES LIVES HE DESTROYED
FIRST STATEMENT / STORY
DV NEWSPAPER – 25 JANUARY 2017
Icelandic model says that very rich guru has

hypnotized her

and threatened to murder her.
Orgy under hypnosis, "black cobra" attack force, cult and murder
Orgy under hypnosis, the "black cobra" attack force, threats of black magic cross and crush, murder threats and attempted murder, sex-maniac and its religious community, drugs and a pile of money. All this is evident in a thriller like allegations of a young Icelandic woman who has worked as a model, against Swami Ozen Rajneesh, a wealthy love guru resident in Mexico. On the other hand, the guru finds the woman to be flawed crime woman beneath her beautiful look.
Both have published their narratives officially, the Icelandic woman in the Mexican gossip paper Que Qui, and on a website who warns about the guru , while Rajneesh has published on the internet a detailed timeline along with a large number of screenshots of their relationship and communication as well as audio recordings by the Icelandic woman. In addition, DV has discussed with both of them. In a conversation with DV, the Icelandic woman says that Rajneesh is a dangerous fake guru who is running a slave camp, and her mistake has been to not seeing that before. She has sought the media in Mexico to report him.
Their descriptions of how they met are almost completely different, although some are alike. What is pretty much clear is that the woman and Rajneesh were introduced last April at a restaurant in Tulum, on the Yucatan Peninsula in Mexico. Both agree that soon after, the Icelandic women went to the luxury meditation resort of Rajneesh at the beach of Playa Del Carmen.
They both state that the woman would acquire a 15 percent stake in Rajneesh's mansion. The woman alleges that Rajneesh tried to force the shareholding up on her,, but the love guru says she was crying for it to claim she could get a visa in the United States.
The rich monk
To make a very long story short, Rajneesh claims that he and the Icelandic lady had an love affair where he paid a large amount of money. Then she left the meditation center with his money and jewelry. Then she contacted the gossip newspaper to destroy his reputation by asserting that he had hypnotized her with some drugs and sexually abused her. Rajneesh denies this completely and found himself forced to respond to these allegations.
"I'm a simple man who became a monk 17 years old. I've been Sannyasin [a kind of monk in Hinduism.]for 32 years. I have nothing to hide and my life is like an open book, "says Rajneesh in a conversation with DV. Despite that, he is very rich as he says and he comes from family of billionaires and his mother was a famous Bollywood actress. It should be made clear that on various websites there are serious allegations against him. ?
Guru says she has been his fiancée
Rajneesh said that soon after he met the icelandic woman, they became a couple. According to him, shortly after that she told him she had problems with a passport visa. Rajneesh said that she had suggested that he would transfer one of his houses on his luxury meditation center to her name, so she could demonstrate that she was operating in Mexico. Rajneesh says he had agreed and had prepared quickly for the agreement. He says she had moved to the meditation center in the middle of the month of May. Apparently, after that, everything had been ok for a while and he had paid a lot for her, such as flights for her family to Mexico.
According to Rajneesh, the woman declared her love for him at the beginning of June and said she wanted to get married to him. "She said she wanted the engagement to be on her birthday, on August 10th. I joked and asked what she would like for a gift when we got married. She said that 15 percent of the meditation center, estimated at three million dollars, would be a suitable as a wedding gift. I found it funny and agreed to give her 15 percent, "says Rajneesh. He claims to have immediately contacted his lawyer to complete this. Rajneesh says that after that he gave her about a million Icelandic crowns to buy clothes and stuff. According to him, the woman signed the aforementioned agreement in mid-June, and the Guru published photos of it as an evidence .
Says the mother and daughter were very angry.
In Rajneesh's timeline, it appears that at the end of June, 21 days of rest began, as so-called "mystic rose retreat". From Rajneesh's timeline to judge, the rest has been peaceful besides the woman's Icelandic mother came to the area. On July 20th, the rest was over, and then everything got crazy. Rajneesh says that the daughter and her mother had demanded to be given the original certificate that she was a shareholder to be able to hand it over the US consul in the area and receive an endorsement. Rajneesh said he agreed to give her a copy for a visa but the original share certificate would not be issued until the purchase was approved. Rajneesh says that then they got furious and told him that he was the leaders of a cult that brain washed their followers and made them become their slaves.
Rajneesh says that because of this he decided to take the contract, which had not been documented, and tear it in front of the mother and the daughter. He says that after that they became more furious and threatened him all evil. He said that a few days later, the woman left in the middle of the night and he soon found out that she had taken from him 200 thousand pesos and various jewelry.
Then some time passed and on September 7, the woman appealed him to the police and on the same day a new story appeared in the former Que Qui newspaper. There was a conversation with Icelandic woman, although she is not named, and said that Rajneesh is a fraudster. On December 5th, the same magazine published another story from the woman where Rajneesh was said to be mesmerizing women with the help of drugs and to take them to an orgí. The videos are then published on a web page, and the newspaper published screenshot of the page where you can see "blurred" images of the woman. This web page is no longer active and, as far as DV could found out, the domain was registered the day before publication of the article
In a conversation with DV, Rajneesh says he is prepared to respond to these allegations, which he says entirely wrong. He never threatened her but acknowledges that he had demanded her to return a diamond ring of a value of 800 thousand. He says the woman later joined his opponents, and he asserts that a young man has tried to kill him on his birthday day. Rajneesh believes that the boy had been on behalf of his opponents.
Black magic
Now turns to the side of the Icelandic woman and her accusations against Rajneesh. She says he is a dangerous leaders of the cult, and she does not hesitate to call him a murderer. DV talked to the woman and said she had not been in a relationship with Rajneesh but she was deceived when she went to the meditation center. He is powerful hypnotic. She says that soon after joining the meditation center, Rajneesh gave her unusually attention and gave her gifts. She says he is currently in a campaign against her and others who tells the truth about him.
"We have various stories and evidence about how bad and insane this person is. We are trying to take him down. We have been creating a website about this person and to let people know how he is, "says the woman and refers to various websites. There, Rajneesh is said to be related to Michael Naut's disappearance, a German citizen, near the meditation center. Rajneesh is also said to have distributed naked images of an eighteen-year-old girl.
The "Black Cobra" Specialist
The narrative of the woman is that the angry guru tried to force her to take the aforementioned shareholding of his meditation center, and when she did not want that, he threatened to murder her and her family on the spot. It has not been the first time someone has been murdered in the meditation center. She says on the website that she had taken that diamond ring because she had to go in a hurry. She displays a screenshot of Rajneesh's message as he appears to threaten her with black magic.
Then the story goes to the "Black Cobra" attack forces, but the Icelandic woman claims in one web page that a man named Chinmayo, who she says is the main slave of the Gurú, threatened that the special force would be applied if she would not return the ring. She has feared this special team and thus delivered the ring. DV asked Rajneesh about the "Black Cobra" attack forces and he did not seem to deny its existence. "I have many followers in Russia and many of my people there love me. Yes, I have Russian relationships but I would never use them except for defense, "Rajneesh replied. The icelandic woman tells to DV that "Black Cobra" is a Russian mafia that is widely used in Europe. "They were threatening me and my family to send" Black Cobra commando service "to us and kill us. He's just lost his mind, "said the Icelandic woman, who has arrived in Iceland.
Claim to that she was not in relationship with guru
She said he wanted me to take care of the meditation center. "I've been phychic since I was a kid and I've seen energy. He new that I saw energy and years and he used it. He took advantages of that I have this purple energy. He said his mentor had appeared to him and told him that I should run his place, "she said, adding that she did not want to have anything to do with the meditation center.
She says she felt like he wanted to be with her and she didn't want that. "He was using an eighteen year old girl who was a virgin, I do not know if this is true. He published pictures of her naked. She did not want to stay with him so he said to her: If you do not want to be with me then I will take revenge. He found all her Facebook friends, all down to ten years old girls, and sent them naked pictures of her. He's crazy and she lost all her friends, "said the woman, and said she was very afraid of the man.
She says the guru was touching her and she did not like that. "I thought he was like this when people love everything, like Guru, they are always touching all people. I was hugging him sometimes but never more, just half a minute like ordinary people. A person who is close to people you think is good. So he made people think I was his girlfriend and I felt bad about it, "said the woman.
"Slave camp"
She says Rajneesh's dangerous fake guru. "He pretends to be an enlightened man on the way of God, but he's only running a slave camp. People are working for free and instead get meditation and yoga for free. I went there and thankfully I saw through him. I call this "cult" team. I did not see through him first because this man is a sociopath and he is sick. We gathered and published stories about him and that is why he tries to make me look bad. He's, I think, been poisoning for people with a plant called […]who keeps the soul away from people.
I do not know if it's true, but when you get into the camp, you see that it's not a soul inside people, it's something weird, at least those who have been there for a long time. They are very strange and do not speak much to you, like they are robots. Everyone starts to change and the energy is very strange, because he has been meditating for a long time, but he is not on behalf of god he is on behalf of the devil, "said the woman, very worried.
She claims to have sought the media in Mexico to beware of Rajneesh. "I wish people would not go there. They told me they had killed people before and sent people to kill other people. I've had a lot of death threats through the phone and also my mom and my brother, "says the woman.
According to her, she and her mother had to flee from the center and they feared their lives. "We were terrified for a long time, we could not sleep for two days. Others have fled after I published this. All that he says about me is pure lie, "she says. She says that her main mistake has been not seeing through Rajneesh. "I was there for almost two months. It was meditation for 21 days, so therefore I stayed longer, "the woman asserts that she has informed the police in Iceland about the matter.
SECOND STATEMENT / STORY
QUEQUI NEWSPAPER – 5 DECEMBER 2017
LEAVE GURU OF PERVERSION – More than a guru who promotes meditation and spirituality, the Hindu Swami Rajneesh, director and owner of the Ozen spiritual retreat and meditation center, five kilometers from Solidarity, is the leader of a disastrous sect, almost as big as that of the pedophile from Cancun. , Jean Succar Kuri, whose maximum purpose is to manipulate the minds of people, mostly European tourists, who come to him in search of a haven of inner peace, obtaining in return a tortuous and narcotizing ordeal, through which this subject satisfies his lowest carnal pleasures, with the women who attend such "retreats", who without their consent, are shown in videos that he uploads to internet sites, said one of the many victims of this individual, who with the help of his relatives, she managed to escape from that hell.
The victim, a citizen of precisely European nationality, who after the abuses perpetrated in his grievance by the aforementioned subject who holds himself as spiritual guide of the eastern meditation technique known as Osho, filed a complaint with the State Attorney's Office, in the municipality of Solidaridad, with the number 09/4862/2017 and seated in the folder 4862, indicates that after having remained in the alleged center of meditation and holistic therapy for almost 21 days, she managed to escape the abuses that Swami Rajneesh perpetrated against her , by persuasion and the supply of doping concoctions. With a choked voice that sometimes let out some sobs, the victim of the alleged spiritual guru, said that it was last May, when through other people he learned of the existence of this place, located in the middle of the jungle a few kilometers from the federal road that leads to Solidarity, where shortly after arriving, the supposed spiritual guide, began to provide her with an herbal concoction, which supposedly would help her stay relaxed to achieve the peace and inner harmony that she require.
Like her, in the place there were other 24 people who similarly followed the same procedure, which gave Swami Rajneesh the opportunity to influence through persuasion and presumed spirituality, to control their minds, because he told them that they should not concentrate on the environment of the place, but on it, "by assuming itself as a God".
In the same way and using the narcotization that he inflicted on his victims, the supposed spiritual guide, he took advantage to perform orgies and abuse the young and beautiful women who were there.
Not satisfied with this, this depraved subject, who previously made sure that the people who went to their spiritual retreats, lost all contact with the outside world, recorded videos that he later posted on internet sites where they appear she and other women, in non-consensual sexual encounters.
The complainant said that it was in a lapse of lucidity that she could realize the inconsistencies of this subject, who tried to force her to sign a document where she agreed to conclude the withdrawal in its 21 days, accepting all the indications that he did.
It was thanks to the intervention of his mother and brother, that the young woman managed to flee the place on July 21 of this year, but not before, receiving death threats and damage to her family by the Hindu degenerate. It was in the face of such great fear that a couple of months passed before the aggrieved decided to denounce what had happened, before what is waiting for the state justice authorities to carry out the corresponding tasks.
It should be noted that this is not the only case of abuse, rape or fraud related to the Ozen spiritual center of Swami Rajneesh, which could be verified through the website where two videos with informative notes of foreign news, which reports the disappearance of a young man of German origin, disappeared for more than two months, to go to that place, to which negative testimonies of other visitors, who came to Quintana Roo in search of a space where to find spirituality, for those who ask for justice from the Mexican authorities.
THIRD STATEMENT / STORY
POLICE REPORT – 7 SEPTEMBER 2017 – 5:55pm
I appear before this ministerial authority to present a formal complaint for the crime of threats and what results committed in my grievance against whoever is responsible; as for the facts i manifest that i arrived to Tulum city in the month of june, I met a friend named Rommy Gelly who had met in the month of january and introduced me to this Mr. Swami Rajneesh who calls himself ozen so we make a friendship, we started dating together so this person invites me to live at his home located three kilometers from Playa del Carmen in the direction of Cancun, where the Maya Hotel Coba is located, exactly five kilometers into the jungle, everything was going okay but on june 20 of this year he started to want to control me, but because I had my belongings and two cats in the place i couldn't go so easy because i was in the middle of the jungle, on July 19 of this year i gave him back some gifts that he had given to me and I told him that I wanted to go, to what he told me "You do not know what I'm capable of" That he had a best friend who has a group of Russian people who call themselves black cobra and who has already killed people on his orders, to which I asked him if he was able to kill me and my family, and he responded that he would if I left him, at that moment he threatened me to kill me if I left him and that he knew people who could also kill me, so on July 21 I decided to leave that place, it is the case that on july 30 being about 5.00 pm I received a text message where he threaten me again that he is going to kill me saying that the Cobra command have information about my address and my grandparents' address and that they will kill them quickly and accurately because they are a professional group, on August 6th he sent me a text message telling me that ozen (which is in the God he believes in), finishes the works at one hundred and ten percent, saying that he will kill me and my family wherever I am, is for that motive that I come to denounce the facts so that this person could be investigated. being all that I wish to manifest
FOURTH STATEMENT / STORY
QUEQUI NEWSPAPER – 7 SEPTEMBER 2017
"INDIAN IS ACUSED FROM MANIPULATING HIS FOLLOWERS IN A "SPIRITUAL RETREAT" It all began with a spiritual guide by the ocean shore, but after spending 21 days with an Indian spiritual guide, a foreign young woman passed from cosmic consciousness to feel threatened by the beliefs preached there. the story of the young woman, from who we withhold her personal information for fear of retaliation, started her search for a philosophy that brought her to peace and happiness, that's when she met the Indian, Swami Rajneesh, who has a property 5 kms from playa del Carmen. arriving at the place, the young woman lived with more than 40 foreigners that call themselves followers of Osho. Nevertheless, during her stay in the place, the young foreigner realized that more than a philosophy, it was a "sect", where she felt manipulated and blackmailed. even though at the beginning the young woman received gifts like a laptop and 2 rings from the Indian spiritual leader, Swami Rajneesh, 55 years old, who calls himself an Osho disciple, she realized that she was being manipulated, even started to receive threats. he search for meditation, consciousness and loved, end up in the general stated attorney, where the young woman went to make an accusation against this spiritual leader, who she thinks has been threatening her. SHE ESCAPED nevertheless, in her quick escape from this place 5 kms from playa del Carmen, the young woman abandoned all her belongings, which now she is trying to get back, but asking for help from the police authorities to avoid damages to her physical integrity. it's important to mention, that Osho had a philosophy of no fear of death, focused on joy, the sense of humor and an open idea of sexuality, which coined him the nickname on the press of "the sex guru".
notes: received threats not wanting to stay in the retreat now she is harassed. During her stay in the place, the young foreigner realized that more than a philosophy, it was a "sect" In her swift scape of the spiritual center, the victim abandoned all her belongings. he uses manipulation to get his objectives. hundreds of young people follow his philosophy.
BACK COVER GURU, CHEAP AND CHEATER young foreigner accuses Indian "spiritual guide" Swami Rajneesh, who offered her a retreat, but ended up in a nightmare. – the victim denounced that she was being manipulated, she even started to get threats from the supposed spiritual leader. She went to general attorney to denounce.
FIFTH STATEMENT / STORY
WEBSITE ARTICLE – 29 NOVEMBER 2017
I met Swami Rajneesh Agarwal for the first time in Shiva Bar in Tulum, Mexico. A girlfriend at that time introduced us because I was interested in spiritual work and learning more about meditation and yoga as well as attending workshops and ways of reaching higher in the pyramid, to connect with the other world, spiritual world.
In the beginning, Mr. Agarwal spoke a lot about everything and nothing. I gave him the benefit of the doubt, thinking perhaps he has to get to know the person first before sharing deep spiritual teachings. I thought he had interesting energy, so I decided to get to know him by moving to the Ozen Commune meditation center, in Playa Del Carmen, and do his Mystic rose meditation that goes on for 21 days plus the Buddha moon festival that came shortly after for 4 days. It all sounded very interesting, a lot of meditation, yoga, workshops and other things going on, so I happily moved there and waited for it to start.
Mr. Agarwal moves very fast in making decisions, he is clever and cunning in many ways. While at the Ozen Commune, I received a message from a friend saying they need me to take my cats from their place in Mexico City because of a medical emergency. I told Ozen that I had to go to Mexico City to fix the situation. He told me no problem that many of his followers coming from the city take their cats to the meditation center, which is the best environment, free in nature with people that love animals! This sounded good because my cats were suffering being in an apartment; they were more naturally street cats. I didn't understand then that he was only spinning a web around me. He just wanted me to be with him. I was naive and too innocent to understand. I have met gurus, spiritual leaders, before and none of them demonstrated sexual bodily desires towards me.
To cut to the main part of the story, he started offering small gifts to my friends and to me, so it became easier to accept him as a kind person. Then he started gifting me even bigger, more expensive gifts. He gave me a choice of any meditation cabin I wanted, even wanting to provide papers for my signing to show ownership. I asked him why and he said because it's a friendly welcoming. He added and kept saying that I had this amazing purple energy around me that was powerful enough to take over the meditation center, and I could speak from his chair; and he repeated that I am the next one, the women Buddha, the next guru in that center. I was too easily fooled by his vibe, it is like you turn blank and confused, not connected to your higher self. He for sure has some intense strong energy but run by dark forces and he is a master in convincing people, pro in lying. He fooled me into thinking that cause as a child I had seen the "unseen world" very clear, along with been able to have 2 friends seen it with me (since my energy was for long time transmitting into theirs and vice versa) but it stopped for few years, cause i got scared and blocked myself. Up until 5 years ago, I started seeing very little of energies again, the aura of people and the souls around them. Because of these life experiences I was more easily convinced by Ozen that I had good energy, especially since many different people have told me the same thing over the years.
About 1 or 2 days before the mystic rose meditation started, Ozen started convincing me to sign papers, saying that he was going to gift me 15% ownership into Ozen Cocom property. I told him I preferred to meditate on it and sign after Buddha festival, if I still feel that was a good decision on my part. He manipulated me to do it before then and even started threatening that he would ruin me by sending me bad vibes and somehow ruin my reputation, if I refused. He had then given me a energy stone massage and kundalini opening massage, which he used saying that when he opened my kundalini he got in there too. After the 21 days just before Buddha moon festival, I wanted to walk away, and I told him I wanted to go to the notaries to cancel the process. He started threatening that he would kill my family and I, that he has highly trained people that have already done jobs for him before. He further told me that he had someone murdered in the meditation center. How he said it made me understand he meant it and all in front of his main slave Chin mayo, that didnt seem surprised, like he had to deal a lot with this. He acted like a total lunatic at that moment. True devils' soul came out. He didn't let me leave, saying that i need to value him and that we had to discuss many things. Because i was scared to step out of his house and be murdered so i listened to what he had to say till late at night.
I was scared, not able to speak to anyone about this matter, cause i didnt know who was loyal to him. I was making plans to run away, slowly getting my passport and few of my things out of his house, leaving my beautiful cats and all my things behind. Ozen wanted to give me big diamond ring for the ring finger but i told him that looks like engagement ring, that i can't take it but he asked which finger i would like to have a ring, i told him preferable index finger so he gave me a diamond ring in the middle of mystic rose. When i told him im leaving he wanted that and everything else back (even used cream), which i did but since i didnt leave that moment he gave the ring back to me and i had to run away with it cause it would be obvious if i left it in his house. It wasn't safe to be there anymore, full of brainwashed lunatics controlled by Ozen. Looking into Chinmayo eyes, being fully under Ozen's command, you could not see any light in there. Alongside with all people that stay there i saw the light slowly leaving them. Trying to cut through the story, everything on stage that Ozen said he didn't live by. People don't have love for Ozen, they are scared of him. The whole energy in the Ozen Commune is very strange, sucks out your light and i understand that he's only a criminal, threatening people, not giving people back their money, a thief and a liar! Pretending to be a saint with all this history is already a crime, not to mention all his theft, murders and peoples lives he destroyed.
After I left the Ozen Commune, Ozen tried to call me 30x a second, I couldn't even turn off my phone! He made his main cult leader, Chinmayo, write a lot of shit texts to me along with death threats to me and my family, saying he has all our information and that the owner of Black Cobra commando service is his loyal disciple and treats him like god so he will do anything for him like causing real harm to me, like killing me. I shared the whole conversation with Dao who also got betrayed by him along with many others. People want to trust a guru; they don't expect a fake con artist! He had given me a ring and other things and then asked for the ring back; otherwise, I was told, I would be facing Black cobra commando agents. I made sure the ring got back to him, once it did he told me to give all the rest that was given by him. On stage, he said to a guy that had told him he had given his ex-girlfriend everything and that he feels so bad to have spent so much on her and that it's just over… Ozen told him not to feel bad, giving is the best thing to do and he should give more to his next girlfriend without expectations or wanting it back. I only write this to show his hypocrisy.