BREAKING NEWS
bryndis helgadottir claims dao nguyen is mastermind behind murder planning and implicates him as accessory to murder plot 
MEXICAN STATE POLICE is on lookout for DAO NGUYEN who has fled to canada and failed to appear on court order. 
the charges includes failed appearance to justice, violence and abuse.
EX SPOUSE WARNING ABOUT DAO NGUYEN
BOTH FAKE BREAKING NEWS VIDEOS WERE MADE IN A STUDIO WITH HIRED ACTORS. MY HUSBAND DAO IS VERY DIRTY MIND AND HAS USED ACTORS.
YES DAO IS THE ONE BLACKMAILING EVERYONE AT OZEN… HE IS GOING CRAZY AND BECOME MENTALLY DANGEROUS TO EVERYONE. 

HE IS A COMPUTER HACKER AND EXPERT AT FORGING DOCUMENTS.

HE CREATE THIS FALSE AND TWISTING STORIES IN THIS WEBSITE ABOUT OZEN RAJNEESH.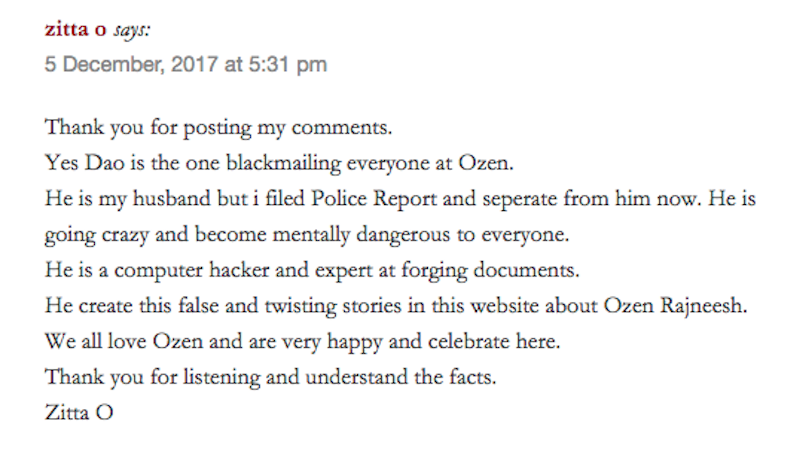 EX SPOUSE CRIMINAL CHARGES – POLICE REPORT
POLICE LOOKOUT for DAO NGUYEN who has fled to canada
HE IS A COMPUTER HACKER AND ONLINE STALKER. HE IS TRYING TO TAKE REVENGE AGAINST ME AND HE HAS BEEN VERY AGGRESSIVE AND ABUSIVE TO ME.

HE WAS TRYING TO EXTORT MONEY FROM MY FATHER SO I LEFT HIM

HE IS AGGRESSIVE DRUG ADDICT PERSON I AM SCARED OF HIM AND I FEEL MY LIFE IS IN DANGER AS HE IS THREATENING AND TRYING TO BLACKMAIL ALL MY FRIENDS
HE HAVE PROBLEMS WITH DRUGS HE SMOKES ALWAYS EVERY TIME HE HAVE NOTHING TO SMOKE I WILL BE SCARED OF HIM THAT HE WOULD BE AGGRESSIVE AND TREATED ME BAD. 
HE MARRIED ME TO USE ME AND GET MONEY FROM PEOPLE HE THOUGHT HE WILL GET WEDDING PRESENTS … ONCE I THOUGHT I WAS PREGNANT AND HE GOT ANGRY AT ME AND TREATED ME LIKE A DOG
HE ALSO USED TO SPIT AT MY FACE SALIVA. GRAB ME OR DEMAND THAT I COULD NOT LEAVE THE ROOM. 
I WAS ALWAYS PROTECTED BY THE COMMUNE EVERYBODY WOULD HEAR HIM SCREAMING AT ME EVEN SOME PEOPLE TRIED TO INTERFERE TO TELL HIM TO STOP AND HE WOULD BECOME MORE AGGRESSIVE AND TRY TO HIT THEM AND SAY "SHE IS MY WIFE I DO WHATEVER I WANT"

I COULD NOT HANDLE THIS ANYMORE I STARTED GETTING SICK I WAS DEPRESSED SCARED OF HIM … I HAD HEART PAIN, I BECAME VERY SKINNY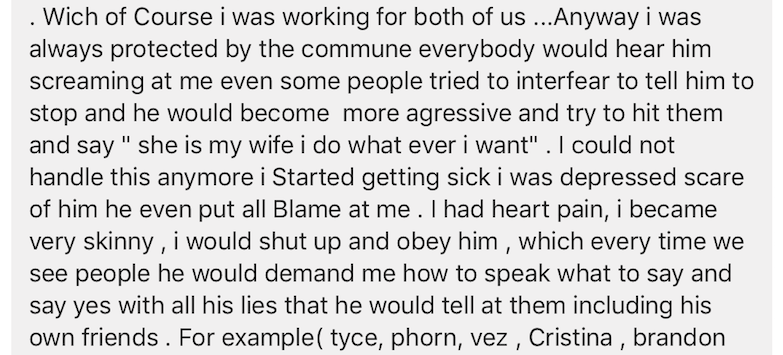 IT IS CLEAR THAT YOU ARE DRUGGED AND OR COMPLETELY LOST YOUR MENTAL BALANCE AND YOU HAVE LOST SENSE OF REALITY.  YOU ARE TAKING TOO MUCH DRUGS AND SMOKING MARIJUANA HEAVILY LAST 12 MONTHS.

TO FINANCE YOUR LAZY DRUG LIFE-STYLE YOU TRIED TO EXTORT MONEY FROM YOUR WIFE'S FATHER.

YOU BECAME VIOLENT AND ANGRY AT THE WHOLE COMMUNITY AND SWAMI RAJNEESH WHO PROTECTED HER AGAINST YOUR VIOLENT BEHAVIOR

THEN YOU WERE FOUND STALKING AND HIDING IN THE FOREST TRYING TO KIDNAP HER OR CREATE VIOLENCE AGAINST HER AND THE COMMUNITY. 

ZITTA BECAME AFRAID OF YOUR PSYCHOTIC AND UNSTABLE BEHAVIOR AND WAS FORCE TO FILE A CRIMINAL COMPLAINT IN THE POLICE STATION FOR HER LIFE SAFETY.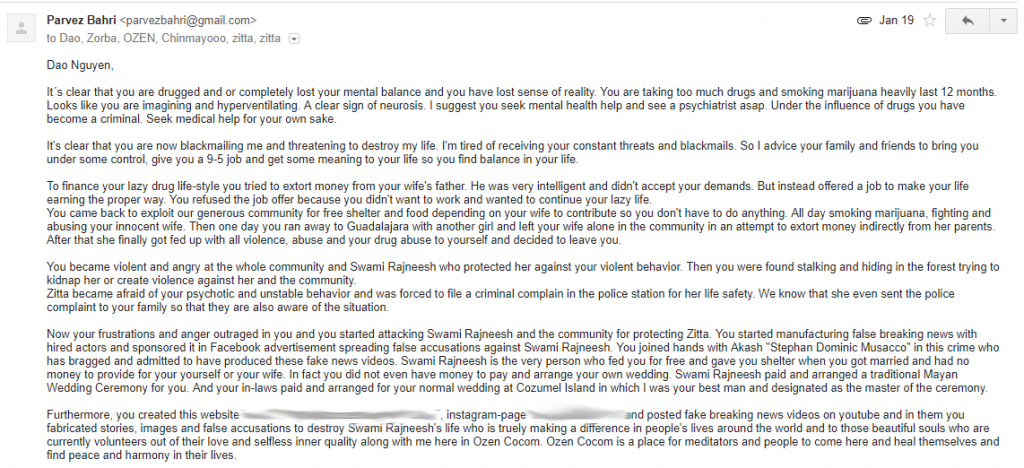 FEW EXAMPLES – DAO'S ABUSIVE LETTERS TO HIS WIFE & FRIENDS
YOU ARE FUCKED!  … YOU ARE FUCKED DUDE … BRAINWASHED FUCKING IDIOT

… THE CLOCK IS TICKING HAHAHAHA…. DID U EVER THINK FOR A SECOND THAT I WAS THE REASON YOURE GONNA ROTT IN JAIL… RUN THE FUCK AWAY….

I NEVER IMAGINED YOU BE THIS FUCKING STUPID! YOUR BRAIN IS ALL FUCKED ANYWAY
YOU HAVE BEEN FUCKING WITH HIM DIDN'T YOU?

DO WHAT EVER THE FUCK  YO U WANT TO DO!  GO PLAY WITH THE DEVIL, LET HIM FEED YOU… HE WILL DIE ONE WAY OR ANOTHER…

CHINMAYO IM SURE RAJNEESH FUCKED YOU HARD IN THE ASS, HES ONLY GETTING YOU READY TO LOSEN YOU UP IN FOR PRISON… YOU CAN DO SATSANG IN PRISON RAJNEESH.SCUM OF THE EARTH… IM SENDING YOU A ONE WAY TICKET STRAIGHT TO HELL YOU PIECE OF SHIT. THERES NOTHING YOU CAN DO MAN, THE WAR IS OVER… FUCKING LAUGHABLE

YOUR BIGGEST MISTAKE WAS THINKING I WAS ONE OF YOUR SHEEP. NOW YOU GONNA SEE YOUR WHOLE WORLD COME CRUMBLING DOWN. EVERY SINGLE PERSON IN PLAYA IS GOING TO SEE YOUR NEWS VIDEO THIS WEEK ONCE WE BOOST.

 MOTHER FUCKER, IM GONNA FUCKING PUT YOU IN JAIL, YOU ARE A FUCKING IDIOT 
sannyas news has reported that dao nguyen has in a revenge conspired with OSHO international foundation ( OIF ) fabricating a false smearing campaign to tarnish OZEN rajneesh image. OZEN rajneesh RESORT offers all OSHO meditations therapies for FREE which has destroyed the business of hundreds of OIF group leaders and therapists around the world 
 
dao nguyen creates a defamatory website based on fabricated twisted facts with conspirators like anant akash and ishwara verkerk
hacked into over 30 facebook accounts of friends of OZEN rajneesh and changed their name to SWAMI RAJNEESH to send abusive mails 
dao nguyen sends out thousands of spam with false information using fake profiles impersonating OZEN  rajneesh. 
dao nguyen – zorbaa the buddha, lola moonshine, nozen and  many other fake profiles spreads fabricated information in email, instagram, facebook groups, blogs, youtube and creating false breaking news videos with hired actors